Looking Back to Plan Ahead
Are you Planning Ahead for your next campaigns? Reporting on and cleaning up previous campaigns is the one of the first steps before moving ahead to planning for the next.
Analyzing and finalizing previous campaign results will help to make more accurate projections for the next campaign. Several reports and procedures in Enterprise will help you with the cleanup process, giving you a clear picture of campaign results.
We'll be focusing here on the Unfulfilled pledges, how to identify them, and how to close them.
How many Campaign years does your organization keep 'open' for billing donors for their gifts? Two years? Three years?
While it is unfortunate, there may be donors (and perhaps companies) that will not send payment for their original Gift no matter how many times you remind them. Some donors move from the area, change jobs, etc. There may also be donors that will not remit the full payment for their gift.
Close monitoring of your open receivables and review of your outstanding items will allow you to closely monitor the volume of these accounts and to contact donors in an attempt to reduce uncollectible pledges.
However, at the end of the billing cycle and after avenues for collection have been attempted – it is important to close out those pledges for which you will not be receiving payment.
The Close Pledges maintenance procedure within ENTERPRISE will allow you to close pledges that are outside of your billing cycles and will probably never be fulfilled by those donors.
Before closing out the pledges for a particular campaign code it is important to review the receivables management process for your organization.
What is your billing cycle for bill direct pledges? Monthly? Quarterly?
Which reports are used to evaluate open pledges? Reports/extracts that may be helpful include:
Selection Management – Pledge Reminder selection
Pledge Status Report
Pledge Receivable Summary Report
Open/Closed Pledge Report
Does you have a dollar threshold to identify the gifts that you will take extra measures to collect? For example – open balances over $250? $500?
What steps will be taken to contact the donor/company?
Is it your policy to notify the Campaign Manager responsible for the gift? Will they play a role in collection?
Will the company ECM be contacted about outstanding corporate gifts?
Will a unique pledge bill be sent for pledges outstanding for a longer timeframe?
Will email communication be used to contact the donor and highlight an open balance?
Will you contact the donor directly by phone?
After you have expended all avenues to get payment for the open pledges, you can then move forward and close out the pledges for a given campaign code.
The Close Pledges procedure allows you to change the pledge status on all open pledges (Unfulfilled or Partially fulfilled) for a Campaign Code.
Note: Pledge Status is used during transaction entry to identify those gifts that are displayed as open when applying payments and when selecting the default pledge that is automatically retrieved for a donor when a payment transaction type is selected. A large number of older open pledges may cause payments to be inadvertently applied to the incorrect gift.
Pledge Status is also used in various reports to identify open pledges and often used in Selection Management when identifying those donors that should receive a pledge reminder.
Below are steps to help you maximize this functionality:
1. Review your current receivables management process.
a. Document all organization specific procedures and timelines.
b. Assign staff responsibilities.
c. Review reporting requirements and customize any reports needed to help with management of tasks.

2. Go to the Pledge Status Code Table (PLPSTTAB).
a. Create a Pledge Status that will be used to 'default close' all of the open pledges for a given Campaign Code
b. The 'Open' checkbox should NOT be set for this Pledge Status.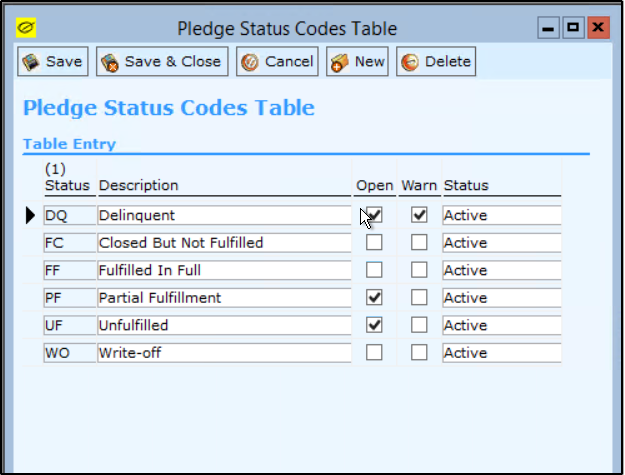 3. Go to the ENTERPRISE Code Table (FRCODTAB) and determine the code value of your default Pledge Status.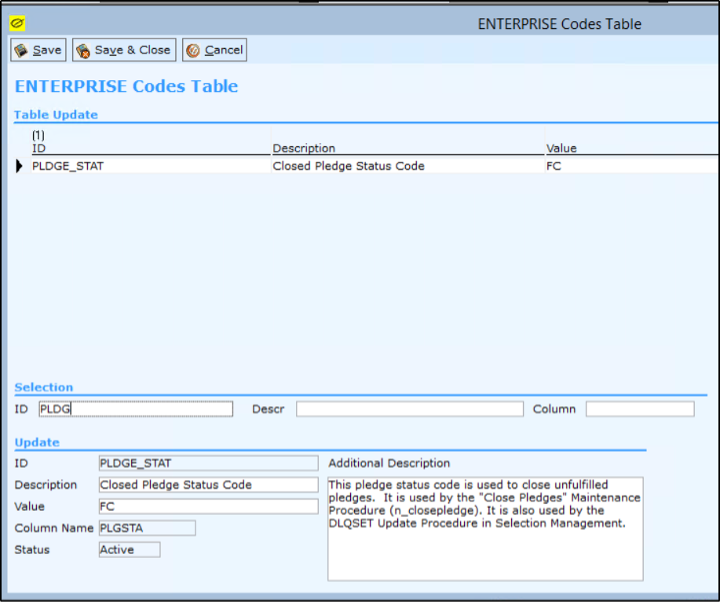 4. Go to File – Open – Data Management - Maintenance Procedures and select the Close Pledges procedure.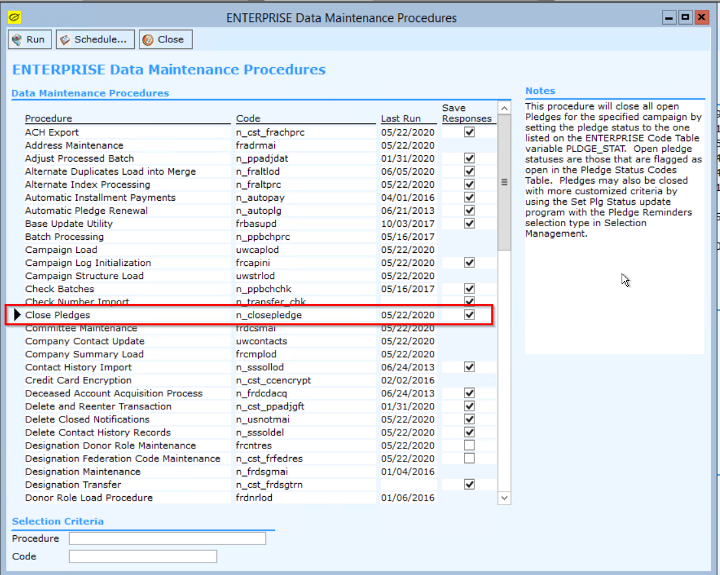 5. A parameter window will appear. In this window, enter the Campaign Code for the pledges that you would like to default close.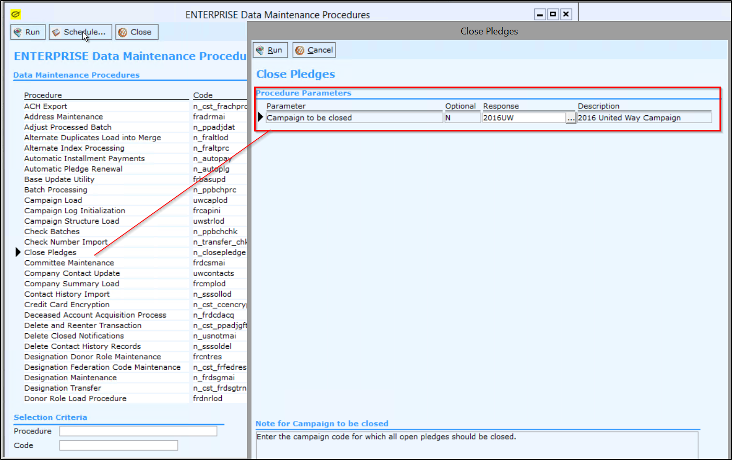 6. Click Run. All open Pledge Statuses for that campaign year will be changed to reflect the default Pledge Status that you have set in your ENTERPRISE Code table.
7. Example: William Anderson has an open $1,000. gift for the 2016AN campaign.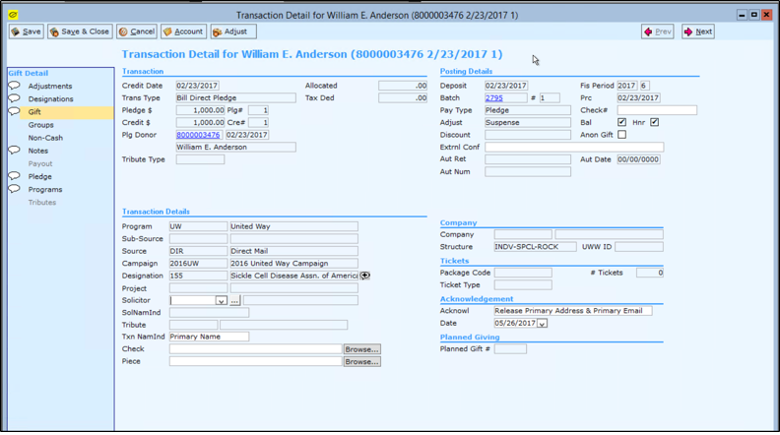 The Pledge Status on that transaction is currently 'Unfulfilled' as seen on the Pledge tab of the gift detail information.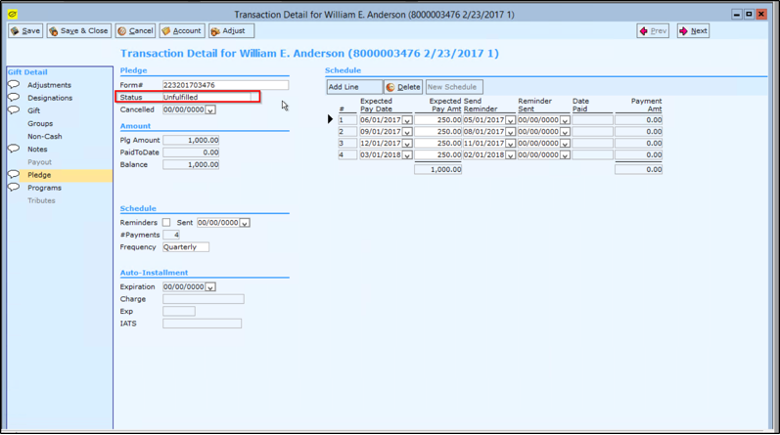 The receivables manager was unsuccessful at reaching this donor and/or receiving payment for this gift.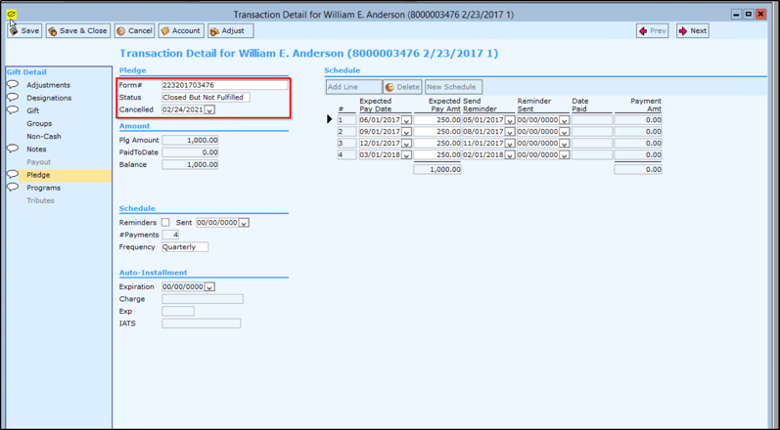 The Close Pledges procedure was run for the 2016AN Campaign Code. When you return to William Anderson's gift – the Pledge Status has now been changed.
Pledges may also be selected and closed using more customized criteria in Selection management by using the Set Plg Status update program with the Pledge Reminders selection type.
<!BlockDetails>
<!Block>
<!Section-Article>