Written by Christian Cockroft
We've been feverishly testing since mid-November, and I thought it would be a great idea to share with you some of the new features that will make your Andar life just a little bit easier. There is something here for every e-Community Administrator. These items focus more on general e-Community administration with a couple of nods to some specific modules.
New Templates
We are introducing two new templates for 2021.01. We created these templates for universal availability. There are times when your customers request a particular look and feel that is not branded with your fundraiser's identity. These two templates should go a long way to making that a reality without a significant time investment. These templates are built around an orange theme and a blue theme, but the colors can be easily swapped out to your scheme. These new templates offer a nice modern feel with great color combinations.
While they are built-in, keep in mind that you must add them as new templates before they appear in your list!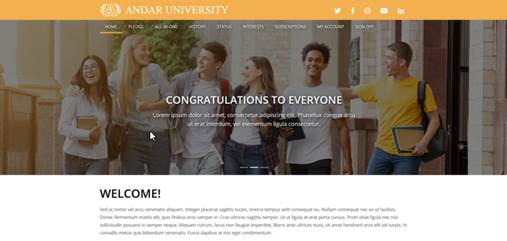 Web Options Find Tool
Have you ever spent a significant amount of time looking for that one web option that you know is there but can't remember where? Problem solved.
In 2021.01 you will find a new item in the e-Community > Admin Main Menu: 'Find by Option Name'
'Find by option name' will search through all of the web options, not by their group name but by the name of the actual option. The results will show you the group that contains the option, the option's name and a short description of the option. Not only will it find new options to add, but it will also show you where you already have it set up! You can then modify or add right from the find screen. This is a monumental help in e-Community administration.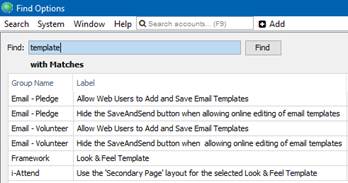 Menus Drag and Drop
While this may seem like a minor change, the menu system has been a bit of a problem to maintain. Remember using sequence numbers to get your menu items in the right place? Setting your sequence numbers to 3 digits so you could insert items in between others sure was a great solution. Let's not forget opening and closing the window just to see if the changes you made were correct. Those were the days!
In the new release, the menu item maintenance window is now drag-and-drop. Sequence numbers are gone. Instructions for this are much simpler now: Open the window, move the item and carry on with your day.
Multilingual Articles
We are finding more and more that customers need their content to be available in multiple languages. It's been sufficient to have the menus and other items in other languages, but with more content being provided on the web and focus shifting to targeted appeals through e-Pledge, it was very difficult to set up. If you needed an article in multiple languages, you had to create two articles and two menus for navigation, which often abandoning the efforts and providing only a single language. Articles will now function as email templates do in that you have a language selector in the article. You will create one single article that contains the copy in multiple languages. E-Community will react to the user's browser preference, language selection on their profile, URL variable or browser selected language.
HTML Editor in e-Volunteer
When creating items like opportunity descriptions in e-Volunteer it's often been difficult to format the descriptions in an engaging manner. You either leave it as plain text or need to dig up some HTML tools to assist you. This will no longer be the case as we have added the standard HTML editor to multiple locations inside e-Volunteer to make this task just a little bit easier!
Outlook Connect Anywhere
In 2021.01 we are introducing an entirely new feature for Outlook Connector: 'Outlook Connect Anywhere'
'Outlook Connect Anywhere' is a new add-in for Outlook with the goal of eliminating all of the past issues with connectivity. This add-in can be included in your Web Version of Outlook, which will appear in your Desktop Outlook, Outlook iPhone, Android Apps, and Outlook Web Access. The Outlook Connect Anywhere icon will appear in all of these locations, allowing you to upload your communications logs to Andar without being logged into Andar! There is one important item to note with Outlook Connect Anywhere. You do need to have e-Community up and running for it to work.
While this list is far from complete, I felt a few essential items would be of great benefit to those e-Community Admins who have more on their plates than they can handle these days. Make sure you check out the complete list of What's new in 2021.01 on the support center, and feel free to contact Customer Care with any questions you may have.