Enterprise

If you raise funds on an annual, membership, or workplace campaign cycle, ENTERPRISE® will manage your fundraising and CRM activities. Ideal for organizations with a funding base of annual donors, members, or sustainers. ENTERPRISE® grew out of a partnership with public broadcasting stations and has also been used by health, human services, cultural, and United Way organizations. Over the years we've developed a variety of modules with our users to help you meet your fundraising needs.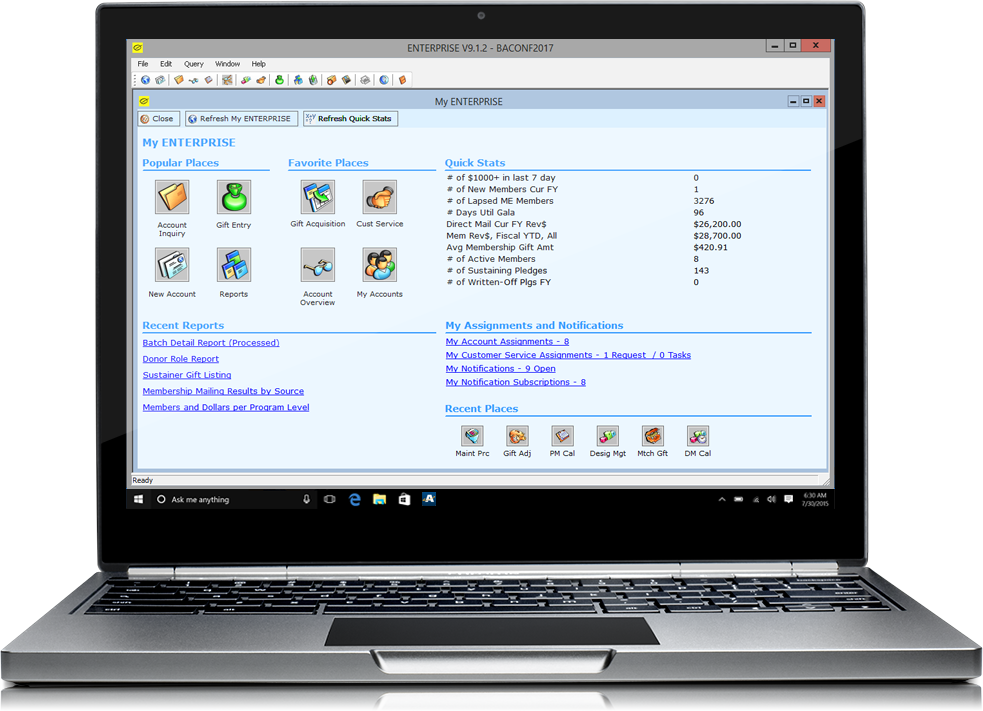 ENTERPRISE®
Fundraising, membership, campaign management, and CRM software solution. ENTERPRISE® is a flexible and robust system designed to facilitate all aspects of fundraising including individual giving, leadership programs, membership, sustainers, workplace campaigns, capital campaigns, annual funds, moves management, data acquisition, reporting, and analysis for all organization sizes.
NETQuery
This flexible web based reporting tool's wizard interface walks users through criteria and output selection to produce lists of accounts and data. Real time information from your ENTERPRISE® database exports into Microsoft Excel for easy sorting, mail merging, and graphing. You can also email your donors and update contact history from NETQuery.
Designation Payout
For United Ways and community organizations who distribute funds. A fast, efficient, and flexible tool to calculate payouts to agencies, Designation Payout standardizes your payout processes. It includes a variety of fee hierarchies, exclusions, selection criteria, and reports working from a donor choice model in ENTERPRISE® that allows donors to designate their contributions out to agencies.
You can extend your ENTERPRISE® CRM tools with these additional modules.
ENTERPRISE® Mobile
A mobile friendly way to access and update key account and campaign information on the go. View and update address information, notes, contacts, touchpoints, and reported amounts in your ENTERPRISE® database in real time.
ENTERPRISE® Advanced CRM
The ENTERPRISE® Advanced CRM module integrates ENTERPRISE® with Microsoft Dynamics CRM. Work from the familiar Microsoft Outlook interface with access to key ENTERPRISE® data. Customized workflows will help your team stay on top of your contacts and next steps.
eLENS
A web based mobile responsive dashboard reporting tool. Customize your own dashboards using the lens library and dynamic filter options to refine output. Then drill down from summary views to detail reports that export to Microsoft Excel using real time data from your ENTERPRISE® database. Your organization can also create its own lenses from Crystal Reports. Also manage events including RSVPs, meal preferences, budgeting and much more.
AgencyLink
AgencyLink allows you to easily and securely share accurate donation and payment information with designated organizations, federations, and other United Ways. In this web based tool you can also manage Patriot Act compliance and send emails eliminating the paperwork of the payout process.
DonorLink
This web based tool provides individual donors with self-service, easy access to their United Way giving history as well as their contact, interest, and demographic information on file. You can send email acknowledgments, invitations, and other communications to donors from DonorLink.
Engage
This web based software solution helps you manage Speakers, Tours, Fairs, and Day of Caring events in your community. Engage can be loaded with data from any campaign management system and manages agency availability and calendars, automatic email confirmations and evaluations, and online requests from companies via a link on your website.
PledgeLink
An electronic workplace campaign solution that can be customized to your company branding and messaging. The employee experience is mobile responsive adjusting to fit a desktop or mobile device. PledgeLink is easy to set up, easy to deploy, and easy to afford. Export pledges for import into any campaign management system and eliminate paper pledge cards and manual data entry.
How can we help you?
We'd love to talk to you about your organization, goals, and needs. Fill out the form below to get started.
<! Generated by ANDAR For Fundraisers Copyright 1999, 2000 Andar Software Data Processing Consultants Ltd.> <! WebForm.selectTable() >
<! Generated by ANDAR For Fundraisers Copyright 1999, 2000 Andar Software Data Processing Consultants Ltd.> <! WebForm.selectTable() >
Items marked with an asterisk(*) are required

<!SecurityCode>
<!Portlet>
<!Portlet>
<!Area-AS-Contact-Survey>
<!BlockDetails>
<!Block>
<!Section-Article>
<!Page-Article>
<!Area-Article>